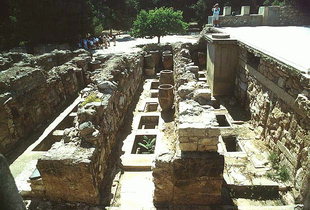 The pithari and the chests in the storerooms, Knossos
The first Minoan palaces were created about 2000 B.C. They show some concentration of power into the hands of a central authority. This concentration led to a sudden political, cultural, economic and religious reorganization of life. Knossos, Festos, Malia, Zakros, Agia Triada and other smaller palaces and villas were created in the same time period. It seems that there was co-operation among the palaces since no signs of competition have been found.
The palaces forced a hierarchical organization of the society with the king at the top of the pyramid. An important role in the maintenance of this hierarchy was played by religion. From the myths that have reached us, we may conclude that the king was presented to the people as a representative of and communicator with the deities. Minos had the reputation of a just king who imposed fair laws given to him by these deities.
The palaces were not only the homes of the king and his family. They have sections devoted to the deities, rooms for ceremonies, for ceramic and seal production and large storage sections for merchandise and agricultural products. The palaces had an organized administration. Many inscriptions which have been found list the offerings of the people. Commerce with Egypt and the East was under the control of the palaces.
The technical innovations that were developed to support the basic needs of the first palaces are simply amazing. The sewage system was very complex and it remained the best in the western world until the Roman era (almost 2,000 years later!). Stone pipes led the water into a central sewage system, with pipes decreasing in size in order to increase water pressure and drive out obstructions. In Knossos, the Minoans channelled drinking water from Mount Youktas, a distance of about 10km, to a water tank in the palace. They used pipes that fitted one within another, perfectly engineered to carry the water through an uneven terrain of hills and valleys. Similar systems existed in the other palaces. The palaces as well as the houses outside the palaces are multilevel; the lower level often did not have windows because it was used as a storage area.
The old palaces were destroyed three times between 1900 and 1700 B. C. The last time they were almost completely levelled by an earthquake and the Minoans found it pointless to try to repair them. All the palaces were rebuilt from the beginning after levelling the remains of the old palaces.
Photos of The Old Palace Period:
Giant Pithari, Knossos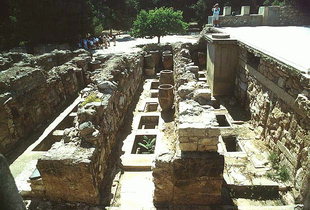 The pithari and the chests in the storerooms, Knossos