The Byzantine cemetery church of Michael Archangelos, Arkalohori
The third type of Byzantine church architecture style was created in the sixth century during the reign of Ioustinianos. The beginning was the building of Agia Sofia in Constantinople. It combined features of the previous two forms of basilicas. The dome was placed on top of rectangular buildings, but in order to support it, extensions of the building, at right angles to the main axis of the rectangle, had to be built. This created a building in the shape of a cross with the dome placed in the intersection of the two lines of the cross (cruciform architecture or stavroti). This basic architectural shape has many variations depending on the relative dimensions of the two lines, their relative placement, the relative heights of the two rectangular parts, the shape at the end of the two parts (either plain or recessed to form an apse), the way that the remaining space outside the lines of the cross is used, and the number and shape of domes supported.
In Crete, a prime example of early cruciform style, and one of the most important remains of Christianity, is the church of
Agios Titos
in Gortyn, Iraklion. It was built in the seventh century A.D. or earlier, and combines the new cruciform shape with earlier styles. Many other churches in Crete are elegant examples of cruciform architecture; for instance, the church of the
Panagia Serviotisa
in Stylos and
Ai Yannis Kyr-Yannis
(Zoodohos Pigi) in Alikianos, Chania, which were built at the beginning of the second Byzantine period. The church of
Michael Archangelos
in Arkalohori, Monofatsi, is in the shape of a cross, without a dome, and the nave higher than the transept. The church of the
Panagia Gouverniotissa
in Potamies and the church of the
Panagia in Drakonero
, near Prinos, has cruciform architecture with a dome at the intersection of the nave and the transept. Often the cross may fit into an enclosing rectangle where the remaining space is completely filled, as is the case with the church of the Panagia Serviotisa of Stylos, or with
Michael Archangelos
of Aradena, Sfakia. The filled area of the rectangle may create space for a three-part basilica-like church, or it may be very elongated in which case it looks like a single room inside, as is the case in
Agios Nikolaos of Kyriakoselia
. In some cases, there may be more than one dome; for example, in the church of Ai Yannis Kyr-Yannis of Alikianos, Kydonia there were two, in
Agios Fanourios
of Kitharida, Malevizi, three, and in
Agios Salvadoros
of Kounavi (Metamorphosis of Sotiras, Agios Nikolaos and Agios Dimitrios), Pediada, five.
Photos of Cruciform Architecture:
Agios Nikolaos Church in Kyriakoselia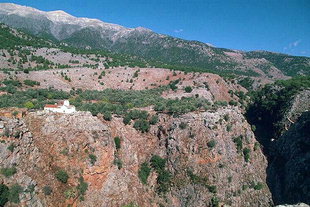 Michael Archangelos Church on the edge of the Aradena Gorge
The cruciform church of the Panagia Gouverniotissa Monastery, Potamies
The basilica of Agios Titos, Gortyn
The Byzantine church of the Panagia in Drakonero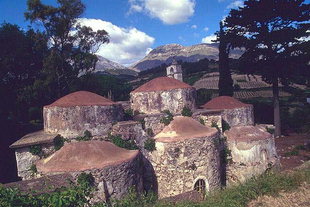 The three-domed Byzantine church of Agios Fanourios in Kitharida
Ai Yannis Kyr-Yannis Church in the orange groves of Alikianos, Kydonia
The Panagia Serviotisa Church in Stylos
The Byzantine cemetery church of Michael Archangelos, Arkalohori