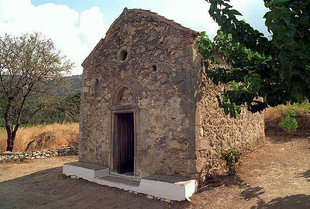 The chapel of Afentis Christos, Potamies
Another architectural style developed later when the Byzantine empire was suffering from the attacks by the Crusaders, Arabs, and pirates, was simply composed of a single rectangular room (monohoros). The large majority of the churches of Crete are of this style. These churches are often very small, and they do not have an impressive external appearance. However, their carefully chosen location often has an exceptional view and their interior decoration with frescoes will reward inspection.
Examples of such churches in Crete are
Agios Stefanos
in Drakona, Kissamos (9C) and the Panagia of Gonia, Kissamos (12C), and the single-aisled church of
Agios Nikolaos
in Agios Nikolaos, which is also domed (8C or 9C),
Afentis Christos
, Potamies; the
Panagia
, Agios Ioannis, Sfakia;
Agios Georgios
, Komitades;
Agios Antonios
, Avdou;
Agios Georgios
, Apodoulou; the
Panagia
, Alikambos;
Michael Archangelos
, Arhanes;
Agia Pelagia
, Ano Viannos;
Agii Apostoli
, Lithines.
Photos of The Single-Roomed Church: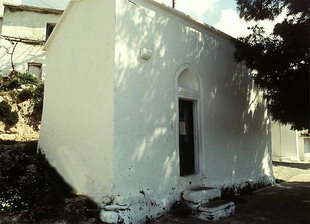 The Byzantine church of Agia Pelagia in Ano Viannos
The Byzantine church of Michael Archangelos in Asomatos
The Byzantine church of Agii Apostoli in Andromili, Lithines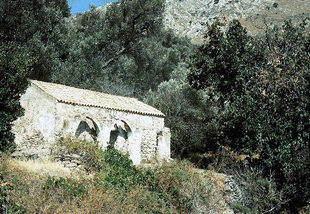 The Byzantine church of Agios Georgios Xifoforos in Apodoulou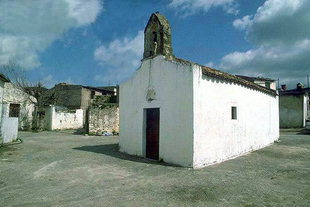 Agios Antonios Church in Avdou
Agios Stefanos Church in Drakona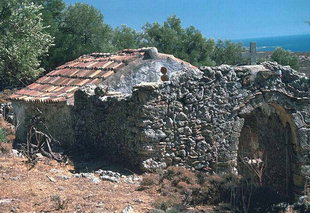 Agios Georgios Church, Komitades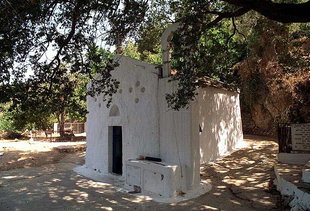 The Byzantine church of the Panagia in Alikambos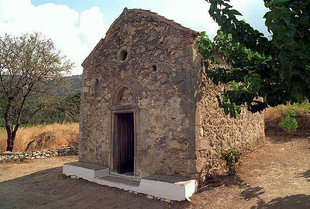 The chapel of Afentis Christos, Potamies