The Gouverneto Monastery church
During Venetian rule the great Byzantine architectural tradition in church construction described above continued unchanged. The influence of the West was only evident in the exterior appearance, which took on a more Gothic style with a heavy presentation in the front of the church and was then complemented with a bell tower. More ornate decorations of external doors and windows were also apparent.
Examples of such churches are the church of the monastery of
Arkadi
, in Rethimnon,and the churches of the monasteries of
Agia Triada
and
Gouverneto
on the Akrotiri, Kydonia. Ornate doors and windows appear in many churches built in this era, as is the case with
Agios Fanourios
of the Varsamonero Monastery, the church of the
Panagia in Drakonero
, Prinos, Rethimnon and the church of the
Panagia in Thronos
, Amari. The church of
Agii Apostoli
in Sfakia and some other churches are built so that the three ends of the cross are round, thus returning to the very old tradition of the first Byzantine churches, such as
Agios Titos
of Gortyn.
Photos of Byzantine Churches During Venetian Times:
The church of Agia Triada Monastery
The church of the Panagia in Thronos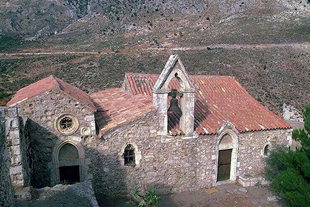 Agios Fanourios Church, Varsamonero Monastery
The Byzantine church of the Panagia in Drakonero
The basilica of Agios Titos, Gortyn
The spectacular facade of the Arkadi Monastery church
The Gouverneto Monastery church