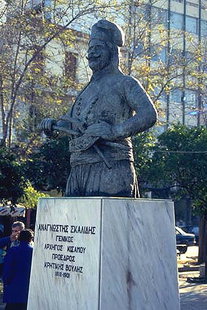 Statue of A. Skalides (Revolutionist) in Platia 1866, Chania
Going west on Hatzi Michali Yannari street and passing Odos Episkopi, down towards the old section of Chania, you will come to the 1866  Square and
Halidon
street.
The newly renovated 1866 Square is an important landmark in Chania. The square has statues of local war heroes and a Turkish fountain.
On the southwest corner of the square, behind the Samaria and Omalos Hotels, is the long distance bus station (KTEL). Buses leave frequently from here for
Iraklion
,
Rethimnon
, Kastelli, Omalos and the
Samaria Gorge
, and other villages of the Nomos of Chania (See Transportation). There is an information booth in the station.
Photos of 1866 Square in Chania:
Statue of Captain Milonoyannis in the Platia 1866, Chania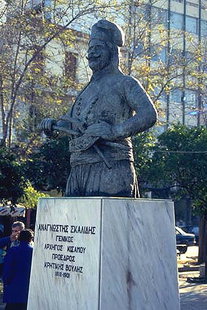 Statue of A. Skalides (Revolutionist) in Platia 1866, Chania
Visit the area of the sight:
Chania