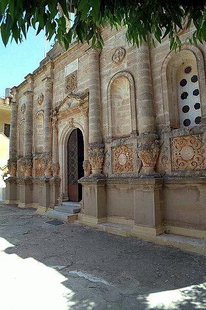 The facade of the monastery church, Moni Gouvernetou
Gouverneto is one of the oldest monasteries on Crete, dating back to around 1537. The monastery has the form of a fortress with towers at each end. Strong Venetian influences are visible throughout.
The main church of Gouverneto is dedicated to the Presentation of the Virgin. The church has a vaulted ceiling and turrets at each of the corners for guns and bows. Fine Venetian carvings decorate the facade of the beautiful church. The patron saint of the smaller chapel is St. John the Hermit, founder of the monastery.
During the Greek Revolution of 1821 the Turks sacked the monastery. Many monks lost their lives and the archives of the monastery were destroyed. Later, during World War II, the monastery suffered along with the Cretan population when German forces established a guardhouse here. Again invaders plundered and heavily damaged the monastery.
Photos of Gouverneto Monastery in Akrotiri: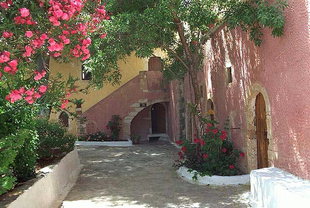 The courtyard of Moni Gouvernetou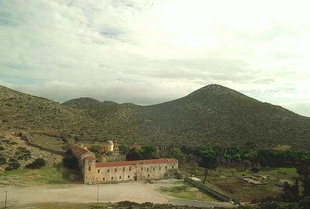 Gouverneto Monastery
The entrance to Gouverneto Monastery
The Gouverneto Monastery church
The fortress-like entrance to Gouverneto Monastery
A detail of the church facade, Moni Gouvernetou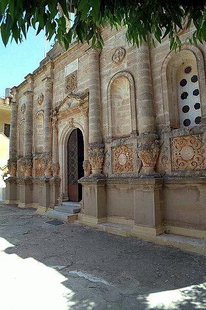 The facade of the monastery church, Moni Gouvernetou