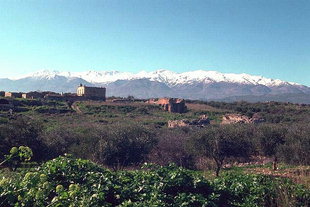 The Byzantine and Roman ruins in Aptera and the Lefka Ori
Take the highway from Chania to
Rethimnon
and turn right after 12km, at the sign to Aptera (which is 17km from Chania). Follow this winding, paved road to the village of Megala Horafia. Turn left in the square and go to the top of the hill. Aptera has Greek, Roman and Byzantine remains, as well as a Turkish fort. On the top you will see a track to the right towards the Byzantine and Roman remains. Looking south across the valley of
Stylos
, you will enjoy the view of the
Lefka Ori
. The view is quite breathtaking from here in the spring when the White Mountains are covered with snow.
Aptera was a powerful city of Crete. Legend says that Aptera (meaning wingless) acquired its name after the defeat of the Sirens in a music contest. The Muses clipped the wings of the Sirens and when the Sirens tried to fly, they fell into the water and formed the small islands in
Souda
Bay.
Aptera has been in existence since Minoan times, and its name appears in the tablets of
Knossos
. It became a very important city-state of Crete during Greek times and was involved in the Cretan wars. It had two harbours. The first one, Minoa, was at the north entrance to Souda Bay, where
Marathi
beach is today. The second was on the other side of the bay where Kalami or
Kalives
is located. These harbours dominated the entrance to the protected bay of Souda. Aptera continued to be an important city during the Roman and first Byzantine periods but it was destroyed by the Arabs in 823 A.D. The Venetians built a fort there which was destroyed by the pirate Barbarosa.
The city prospered until its destruction by the Arabs and later it was abandoned. It was reoccupied by the Byzantines and, in several places, impressive city walls are still visible, which were 4km long at one time. In the middle of the site there is a small temple dating from classical times, (second century B.C.). It is assumed that the temple was dedicated to a pair of gods, possibly Dimitra and Kori.
Photos of Aptera:
Aptera Castle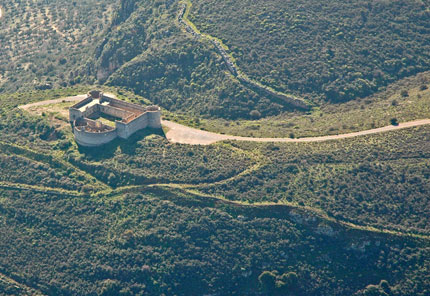 Aptera
The vaulted Roman cisterns in Aptera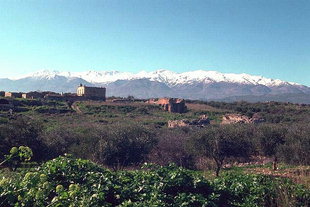 The Byzantine and Roman ruins in Aptera and the Lefka Ori