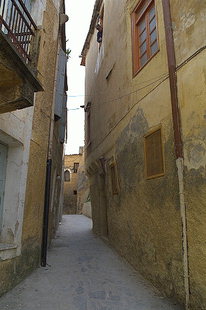 A narrow street in the old town of Chania
This area of the city of Chania close to the fort of Firkas in the Old Harbour, is known as Topanas, because the Turks kept their cannons (topia) there. A little further to the east was the Jewish Quarter (Evraiki). The area is a maze of narrow streets and alleys filled with Venetian houses that are currently lived in and others that have been renovated for use as unusual tavernas or shops. It is well-worth exploring the shops and the tavernas here as the goods and food are generally different from and of a higher quality than those found on the harbour quay.
Theotokopoulou street has many interesting souvenir shops, some with articles of local production. Still near the beginning of Theotokopoulou, turn down to a small street, Parodos Theotokopoulou 1, and head down towards the port. You will come to a renovated Venetian home, now the Amphora Hotel. Turn right, up Odos Theofanous, past the Casa Delfino, another Venetian home, and the Hotel Porto Colombo on to Odos Moshon.
On Zambeliou street you will see many remains of Venetian architecture. On Zambeliou and Douka street you will pass the remains of a Turkish bath (closed). Continue to 43 - 45 Zambeliou street; you will see the facade of a Venetian nobleman's home with an inscription and crest near the top of the facade. At the end of Zambeliou st you will again be at the bottom of
Halidon Street
near the
Platia Sindrivaniou
.
Photos of Topanas and Evraiki in Chania: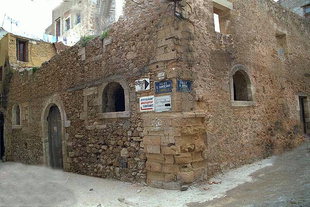 The Turkish Hamum on Odos Zambeliou, Chania
Odos Theotokopolou, Chania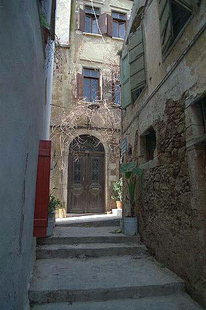 The Old Town of Chania
A street with many remains of the Venetian era, Chania
Venetian remains in Chania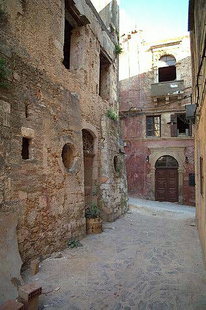 Venetian buildings in the old town of Chania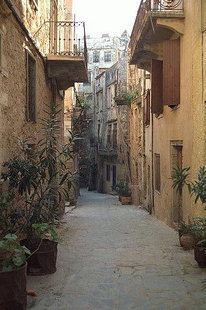 The old town of Chania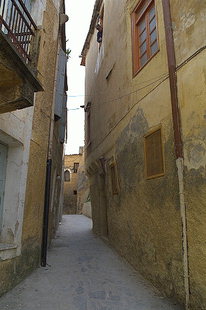 A narrow street in the old town of Chania
Visit the area of the sight:
Chania