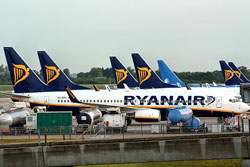 CHANIA - FRANKFURT & MILAN FROM MAY 2011
Ryanair, the world's favourite airline, at 24th March announced its first routes from Chania (second largest city on the Greek island of Crete) to Frankfurt Hahn and Milan Bergamo from May 2011 which will deliver 60,000 passengers p.a. and create up to 60 local jobs in Crete.
Ryanair celebrated its first Crete route by launching a 1 million €7 seat sale for travel on Tuesdays, Wednesdays and Thursdays in late April and early May which are available for booking until midnight Monday (28th Mar). Ryanair's Chania routes go on sale on
www.ryanair.com
at 25th March.