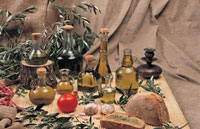 In addition to oil the olive tree also provides us with many other products.
Olives themselves, which are prepared in different ways depending on the variety, are used as an addition to lunches, salads and in many dishes and are an excellent, tasty and healthy food.
On Crete there are many well known traditional ways to prepare olives which are used at home for household purposes or in small industries for sale on the market. The best known ways are:
Green olives in brine or split olives which are prepared using the fruit of the Tsounati or Mouratolia varieties.
Black olives as a paste or in brine which are prepared from the thick fleshed varieties Throumbolia, Hondrolia or Tsounati or small fruited varieties and the most widespread variety on Crete, Lianolia or Coroneiki.
Olive tree wood has been used since antiquity as a fuel substance, for wooden piles in architecture, for column connectors, for agricultural and other tools and for constructing idols of gods and other wooden statues.
Today olive wood is the raw material for making furniture and wooden sculptures. On Crete there are quite a few excellent artisans who produce real masterpieces from olive wood. This hard, durable and at the same time excellent looking wood with its numerous natural formations is an exceptional raw material from making tables, chairs, beds and many other decorative items.
Olive leaves and branches have been used as mattresses since ancient times and are today used as animal feed and fuel.
The leaves of the olive tree which are removed from the fruit at the olive presses are used as a raw material for producing compost suitable for fertilizing olive plantations intended for the production of organic olive oil.