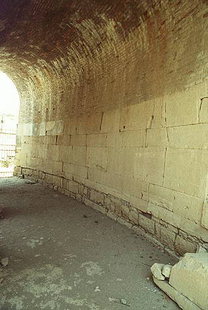 The famous Code of Gortyn from the 5C B.C., Gortyn
The Roman Odion was built with the stones of a previous building and thus the famous Law Code of Gortyn was preserved within the back walls of the Odion.
The Law Code of Gortyn dates from the seventh century B.C. and is one of the major archaeological discoveries of the Greek world. The code is written boustrophedon, e.g. one line reads from left to right, but the next line reads from right to left. The dialect is Dorian Greek and dates earlier than the fifth century B.C. The law describes the rules in detail governing the strict Dorian societies. Marriage and divorce, the sale of property, mortgages, inheritance rights, adoption rules, rape and other crimes, the legal position of slaves, and many other aspects of life are addressed and delineated.
Photos of Odion and Code of Gortyn: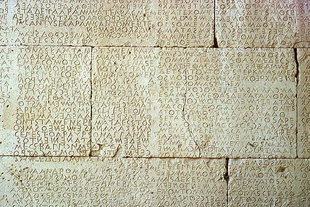 The famous Code of Gortyn from the 5C B.C., Gortyn
The Odeon in Gortyn
The famous Code of Gortyn from the 5C B.C., Gortyn
The Odion and Roman Theatre, Gortyn
The site of Gortyn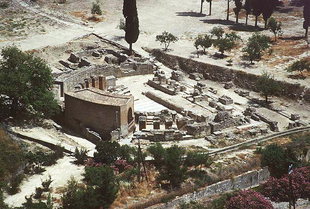 The area of the Odion, Gortyn
The famous Code of Gortyn from the 5C B.C., Gortyn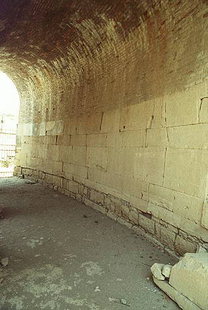 The famous Code of Gortyn from the 5C B.C., Gortyn