The Minoan site in Zakros
The excavations at the palace of Zakros were only begun in earnest in 1961, by the Greek Archaeologist Nikolaos Platon. Because it had not been previously looted, the site yielded an enormous quantity of treasures and everyday items. Excavations still continue on the hill behind the site.
This is the smallest Minoan palace and was built quite close to the sea. It is believed to have played an important role in trade with Egypt, the Nile Delta, and the Middle East. Ingots of copper imported from Cyprus, elephant tusks from Syria, and gold and precious materials from Egypt were found among the ruins.
The Minoans laid out Zakros in a similar fashion to
Knossos
and
Festos
. It had a central paved court with three entrances to the west and an altar in front of the main entrance. Four wings of apartments were in the East Wing. The palace kitchen, the first identified positively at any of the palaces, was in the North Wing. The South Wing was devoted to workshops. The well that served this area still supplies drinkable water. The West Wing, as in all Minoan palaces, was devoted to religion.
Photos of Zakros - The Minoan Palace: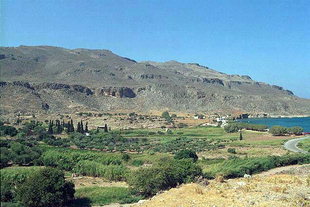 The Minoan site in Zakros
The Minoan site in Zakros