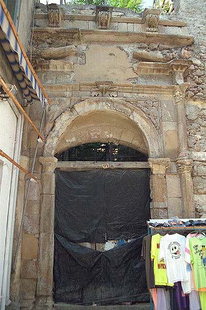 The portal of a Venetian mansion, Rethimnon
In 1204 the Crusaders took Constantinople and dismantled the Byzantine Empire. Crete fell into the hands of Boniface of Monferrat, who then sold it to the Venetians for about 1000 pieces of silver. Crete was necessary to the Venetians as a cross-road for their commercial interests in the East. The Genoese, traditional rivals of the Venetians, opposed the occupation, along with the native Cretan population. During the first centuries of Venetian rule there were continuous rebellions.
The Venetian system of rule was oppressive and strictly maintained. Overlords, appointed directly from Venice, efficiently exploited the resources of Crete. Heavy taxes, low fixed prices for produce, and the confiscation of private land caused continuous local opposition and unrest.
Slowly, the Venetians relaxed their regime and permitted intermarriage and freedom of settlement anywhere on the island. With these changes, the social and economic life of many Cretans improved. During the Middle Ages, exports of corn, oil, and salt kept ports busy. Cretan wine was also widely exported and became famous throughout Europe. However, the system of serfdom and statutory labour lasted until the end of the Venetian rule.
As education flourished, so did the written word. The main literary figures during this time were Georgios Hortatzis, author of the dramatic work Erophile and Vincezos Kornaros with his work, Erotokritos. This is a masterpiece of Cretan literature that is still recited throughout the island.
Photos of Venetian Rule:
The entrance to the Agarathos Monastery
The Venetian lighthouse at the harbour entrance, Chania
The Byzantine church of Agia Ekaterini (circa 1555) in Iraklion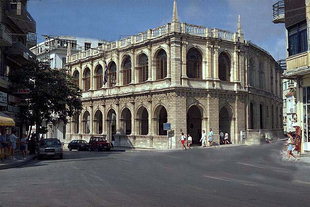 The Venetian Loggia in Iraklion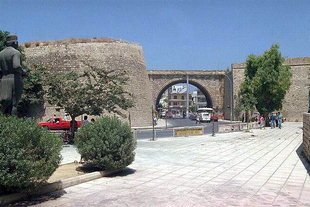 The Chanioporta (circa 1570), Iraklion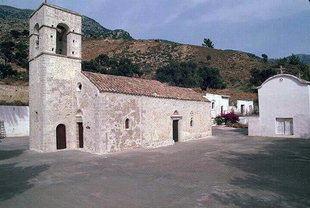 Agii Antonios and Thomas Church of the Vrondisi Monastery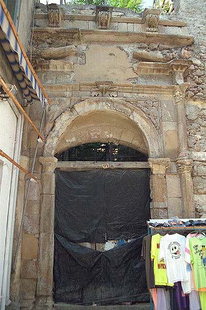 The portal of a Venetian mansion, Rethimnon