Page 1 of 2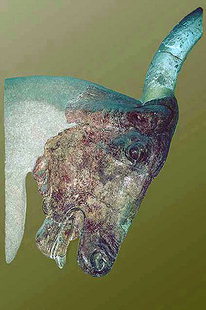 The Bull Relief from the North Entrance, Knossos
Gold and crystal jewellery of fine quality from the Mochlos, Mesara and Arhanes tombs are displayed in Cases 17 and 18A.
The faience techniques developed in this period gave a glazed surface to pottery designs mixing sand, clays, metal oxides, alkali and colour with resin. The famous Snake Goddesses in Case 50, as well as a cow and a wild goat suckling their young (Case 55) are displayed in this room.
This room contains the museum's finest gold and ivory jewellery in Cases 87 and 88. The number of weapons shows the influence of the more militant Mycenaeans on Minoan culture. Two helmets, one reconstructed in boar's tusk and another original in bronze with cheek pieces, are also in this gallery.
This room contains some exceptional examples of stone carving from Agia Triada. The work in black steatite forms reliefs on vases that are among the best in the Minoan era. The Harvester's Vase (Case 95) shows a procession of men giving thanks for the harvest. Farmers follow a priest or a king dressed in scaly clothes and holding a long staff. A man is playing an instrument and musicians are singing. Another exhibit with reliefs on a black steatite rhyton shows some athletic events: boxing, wrestling, and bull games (Case 96). In Case 97 the Chieftain Cup is displayed. It shows an official receiving tribute.
Finds from smaller sites in eastern Crete are displayed here.
Artistic decline is evidence of domination by the Mycenaeans. Case 132 contains a clay sculpture of a dancing troupe with a lyre player, more plainly rendered than works of previous periods.
An eastern influence, especially Egyptian, becomes clear. An example of this influence is the jug in Case 163. Case 170 contains a small piece of jewellery of intricately worked gold.
A collection of sarcophagi from various periods is displayed here. These sarcophagi have two different shapes: box-shaped with lids and bathtub shapes. These may actually have been bathtubs which had been used by their owners for this purpose. The Minoans buried their dead in a foetal position, with their knees drawn up to their chests; this accounts for the small size of the sarcophagi.
The Minoans used plaster techniques to paint. The colours were produced from minerals inserted in wet plaster. When the wall was dry they added additional colours supplemented with unidentified substances. The paintings were usually two-dimensional, avoiding emphasis on depth. In some cases, miniature drawings depicting everyday life were made.
In the centre of the room is the famous Sarcophagus of Agia Triada. It is made of limestone which has been covered with plaster and painted, similarly to the frescoes. The paintings represent funeral ceremonies. On one side there are, in fact, two paintings since half of the figures look to the right and the other half to the left. The female on the left pours the contents of a vase into a crater while performing a purification ritual. The figures on the right bring gifts to a priest. On the opposite side a sacrifice of a bull is shown. The bull has already been killed, and the blood is being collected in a pot. Other animals are presented beneath the table waiting to be sacrificed. Flute music is played during the sacrifice. The blood is carried by a woman to a priestess standing between double axes who collects it in a large jar. Lyra music is played during part of the procession.
The most famous of these is the priestess, called "La Parisienne" by archaeologists. This is a detailed portrait of a woman with bright red lips, huge eyes, and long hair.
The "Saffron Gatherer" displayed here was originally restored as a boy. Archaeologists later decided that it should, in fact, be a blue monkey. Both versions of this fresco are displayed.
Minor Arts from the Archaic to Roman Period (650 B.C. - 400 A.D.)
A bronze statue of a youth from Roman Ierapetra (1C B.C.) is the highlight of this gallery.
Archaic Period (650 - 500 B.C.)
Photos of Archaeological Museum of Heraklion:
Bull Leaper from Knossos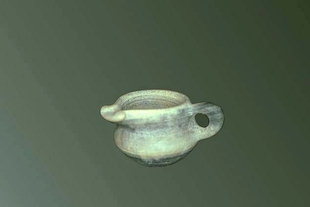 Pottery from Mochlos and Vasiliki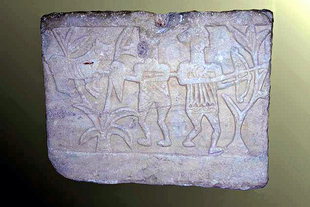 Relief from a Greco-Roman sarcophagus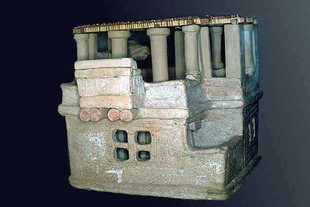 The clay model of a house found in Arhanes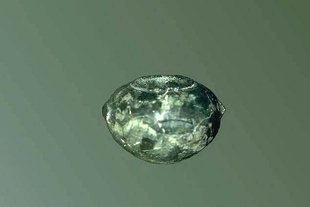 Pottery from Mochlos and Vasiliki
Marble relief depicting a Labour of Heracles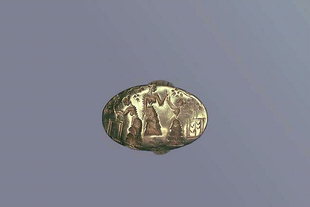 The gold ring showing a goddess and her worshippers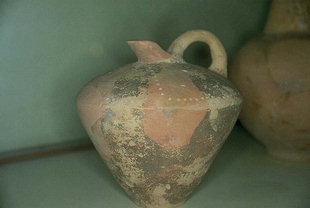 Pottery from Mochlos and Vasiliki
Vasiliki style from Vasiliki, Ierapetra
Marine-style pottery from the New Palace Period
Bronze Roman statue from Ierapetra (1C B.C.)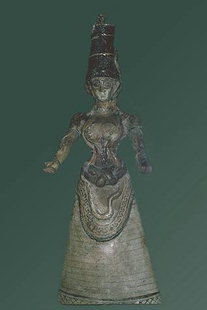 Snake Goddess from Knossos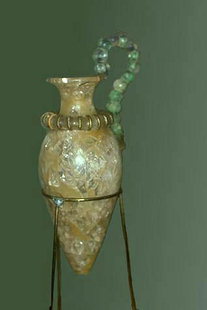 Rock crystal vase with a necklace threaded on bronze wire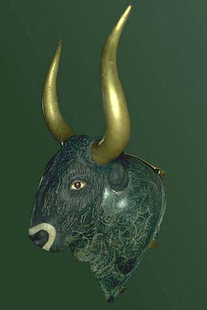 Steatite rhyton in the shape of a bull's head, from the little palace at Knossos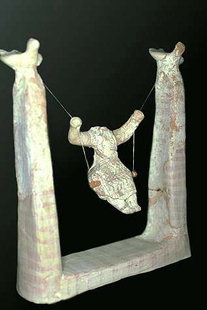 Girl on a swing from Agia Triada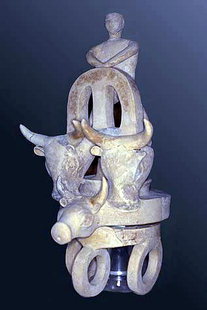 The unusal shaped rhyton from Karfi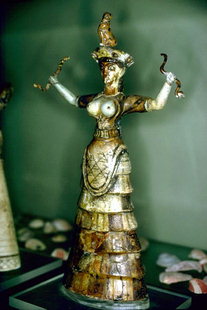 Daughter Goddess with two snakes and a panther on her head
The Boxer Rhyton from Agia Triada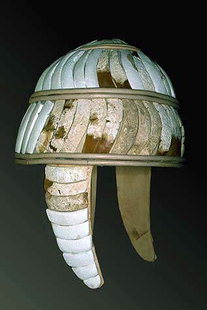 Helmet made from boar's teeth
Daughter Goddess with two snakes and a panther on her head
Bull Rhyton or libation vase from Zakros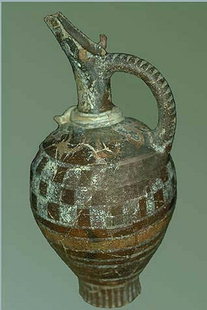 Kamares-style pottery from the palace of Festos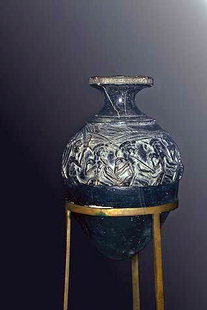 The Harvester 's Vase from Agia Triada
New Palace Period Octopus flask from Palaikastro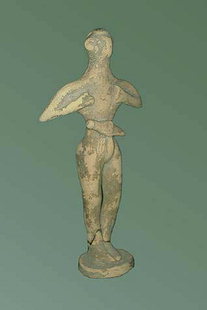 Clay votive figurine from Peak Sanctuary of Petsofas
Bronze figure of a boy with a ram from the Giamalakis Collection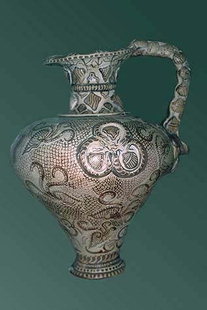 Marine-style vase from the New Palace Period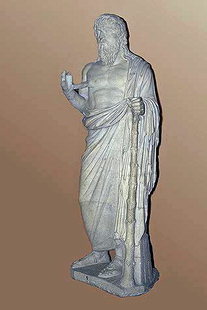 Roman statue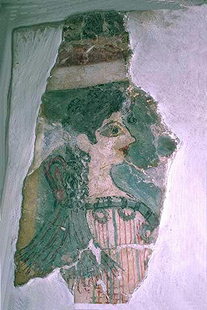 The Parisienne fresco from Knossos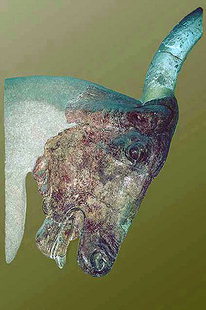 The Bull Relief from the North Entrance, Knossos